Agriculture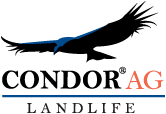 Clay soils reduce the ability for plants to grow. Soils can become to tight for root growth or nutrient uptake. Condor LandLife (AG)® is a product specially designed for the production agriculture industry. It improves clay soil so that plants can achieve their maximum growth potential. Used extensively on golf courses. It does this by:
Releases harmful salts from the soil
Provides permanent formation of granulated soil

Normalizing of Ph level in the soil
Suppression of harmful bacteria
Enhanced activation of fertilizers
Reduced use of water

Great for lawn turf improvement and propagation in tight clay soils !!!

Condor Landlife is just another great product manufactured for over 30 years by Earth Science Products, Oregon. It has been used by forest services, farmers, and golf course maintenance companies plagued by old tight clay soils.