Roadways and Parking Lots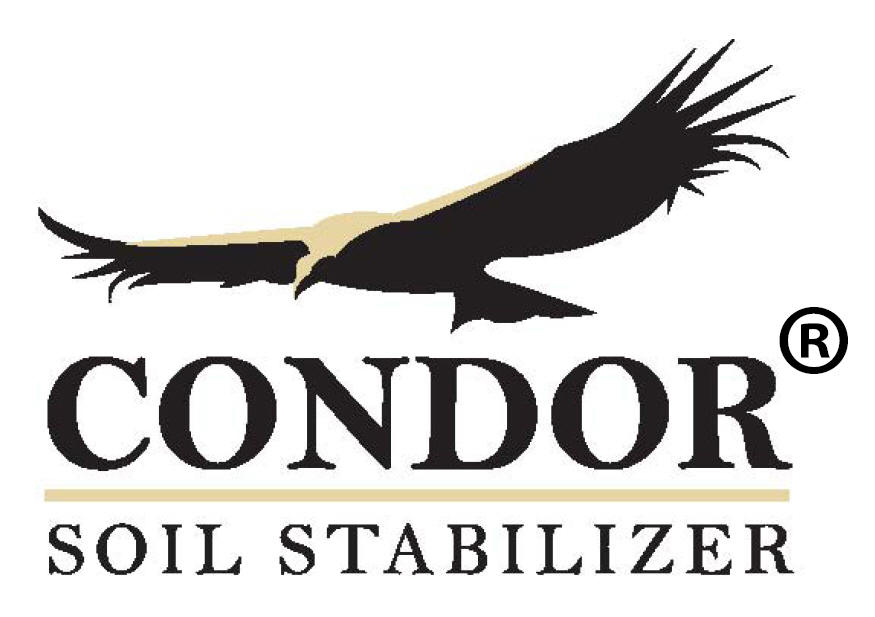 Installation of paving is expensive. When you have clay soils beneath your pavement, heave or swelling of the clay will damage pavement constructed to most D.O.T. and state standards. Why? Even the best constructed pavement does not normally treat the soil deeper than 12-18 inches below the pavement. As water migrates in and out of the clay subsurface the same swelling or heave that creates foundation problems will raise or lower the upper surface damaging even the thickest concrete or asphalt.
Condor SS can also be used for stabilization of the subgrade for roads, highways, and parking lots. It has already been used for stabilization of thousands of miles of both concrete, asphalt, and unimproved roads in the U.S. and foreign countries. Large commercial sites have used Condor SS to preclude damage due to the expansive characteristics of the clay soil. In addition, Condor SS improves the compressive strength of clay soils under both dry and wet conditions. While there are many companies available that can "stabilize" the subgrade for roadbeds, most of them use soil cement, calcium, fly ash, lime, or other similar products. Unfortunately this stabilizes a shallow upper zone that may only be 12-18" deep. So what happens when your road or parking area is built over a soil consisting mostly of clay that is many feet deep? When the clay absorbs water in the deeper layers or dries out during severe drought conditions, the paving will move.
Condor SS can be injected or worked into the soil to cover stabilization of clay soils to any depth desired. If replacing lime or other mixed type of applications, just mix Condor SS into a water truck and spread it over the plowed or ripped soil layer. Unlike lime or other mineral type additives, Condor SS will penetrate to deeper depths than the disturbed surface layers. If deeper treatment is desired, Condor SS can be injected using low or high pressure water injection systems.
Condor SS can minimize the cyclic heave of paved areas, increase stability of the soil during extreme wet conditions, and increase the compressive strength during changing moisture conditions.
Unimproved Roads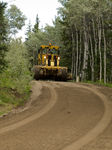 Condor SS has also been effective in reducing dust and road maintenance on unsurfaced roads. Reduced grading, rutting, and washboarding have been reported. In addition you will be using a product that unlike magnesium chloride and other salts is environmentally safe. Road maintenance by many users have shown over a 50% reduction in road maintenance. Our company regularly injects Condor SS around plants and vegetation with no adverse effects. The U.S. Forest Service ran trials of this product on park and forrest roads and the sucess of Condor SS is documented in a formal report.
You may wish to view this video of one testimonial from a satisfied road department and local resident. In this video you will see how Condor SS has minimized dust generation, rutting, and a reduction in equipment use and regrading. You may also note that they have used other similar products in the past with less than desireable results.
(Please note that GMS SS is the exact same product as Condor SS but has been marketed under another name.)
What does it Cost?
One gallon of Condor SS is typically mixed with 100-300 gallons of plain water depending upon the amount of clay present in soil. This amount of Condor SS can treat between 1500 cu-ft of soil. Cost wise this works out to be approximately $.07-$.21 per cu-ft excluding installation and water costs. This quantity of the product has been our experience here in the Oklahoma area. Mixtures in this range can change the expansion characteristics of clay to the point where soil with 5-10% expansiveness can be reduced to 1% or less.
Installation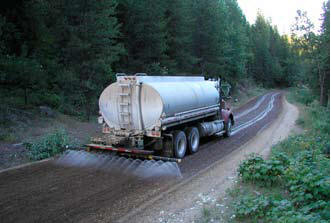 Water Truck Procedures: Light Traffic Loading Heavy Traffic Loading
While the product can be installed to any depth using high-pressure injection, a water truck can be used to distribute the product to scarified depths during routine road reconditioning.
Contact Information
Telephone

918-744-7198

Mailing address